Sarah Schmidt is a 28 year old library student working at the Pritzker Legal Research Center in Chicago.  If you have any questions you can email her at: sarah.schmidt[at sign]gmail[dot]com or friend her on facebook.
I've seen many different parts and kinds of libraries.  Because they all contained a magnificent mixture of personalities and services, each one had a distinctly different culture.  I actually didn't start library school until I had experience in my fifth library, when I felt I was confident about which kinds of libraries might be a good fit for me.
It can be really educational, and even inspiring, to peek inside of other people's libraries.  In the following photos you'll see what sticks out to me at PLRC.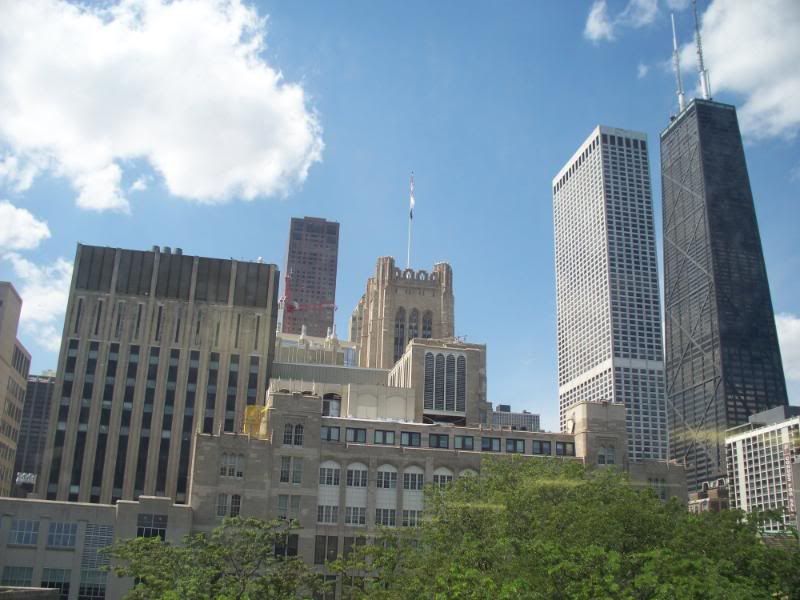 Located on Chicago Avenue in the Streeterville/Gold Coast area, we're in a fabulous spot.  On this side of the library you can see downtown, most notably the Hancock building.

The lake side of the building is also pretty stunning (and, frankly, just as procrastination-inducing!). In the summer you'll see tons of boat traffic in the area. To the right, you'll see Navy Pier, which is a hubbub of tourist activity. The next picture is a close-up of the Ferris wheel (you don't get much more Chicago than the Ferris wheel!).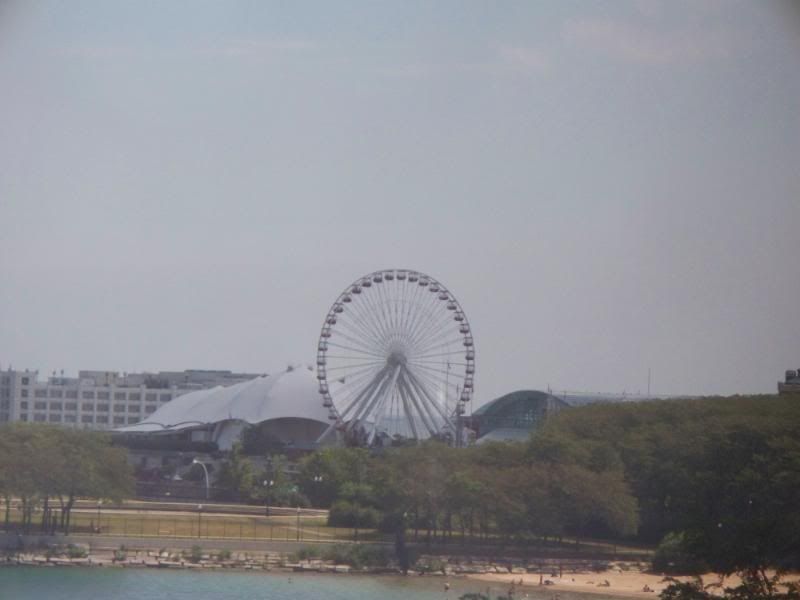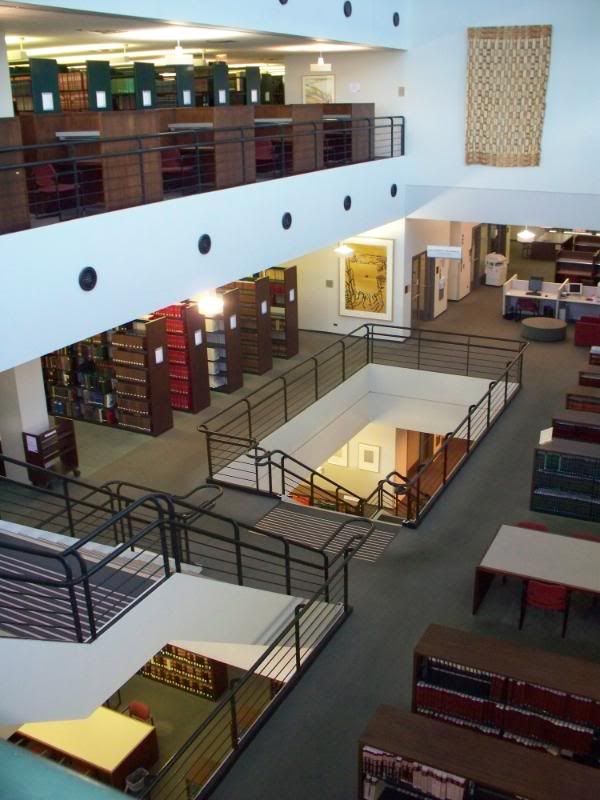 Because of our grand views of the lake, the inside of the library has kind of a nautical theme: cool colors, whites, blues and greys. I love, love, love it — these railings always remind me of being me of being on a cruise ship! Alas, we don't have a lido deck… yet.
The "Supreme Court and Pop Culture" display, located right by the front doors, is pretty much permanent. It's one of several examples of our staff's sense of humor. Law libraries may appear to be stoic institutions, but as this display (by the reference librarian Marcia Lehr) shows, some of us aren't afraid to explore the fun side of the discipline.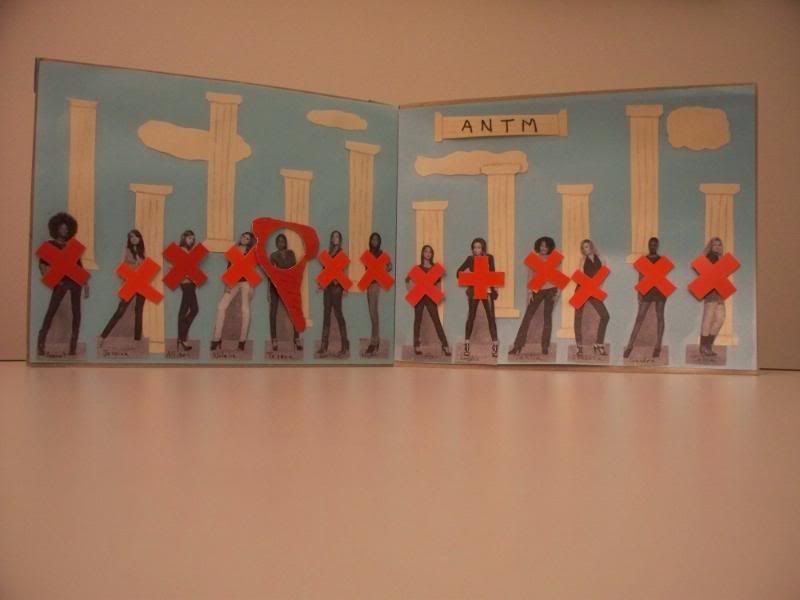 Several of us love reality tv, and we love to talk about reality tv even more. My colleague, Jeff in government documents, came up with the idea to make dioramas with pictures of the contestants on shows like America's Next Top Model (shown above), So You Think You Can Dance, American Idol, etc. Every week, the day after the show we meet in the reference room to discuss how awesome/utterly horrifying the show was. At this same meeting, we ceremoniously cross-out the people who left the show.
Here's my cubicle.  That I'm allowed to take such liberties is a testament to the open-mindedness we have at our workplace. Some highlights: a Lexis Nexis slinky, a cover from a newspaper illustrating the coming onslaught of cicadas, a poster for the Latino Film Festival, postcards from my hiking trip to Machu Picchu…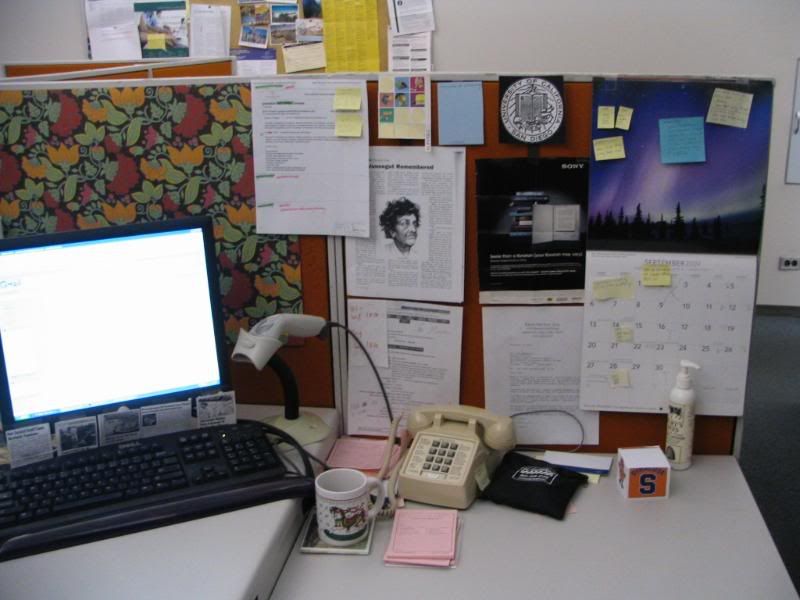 And on the other wall is Kurt Vonnegut's obit by Howard Zinn, the UC-San Diego seal (my dream library is the Geisel Library), a Sony Reader ad a patron ripped out from a magazine and gave to me because of its silly "Sexier than a librarian (your librarian may vary)" slogan.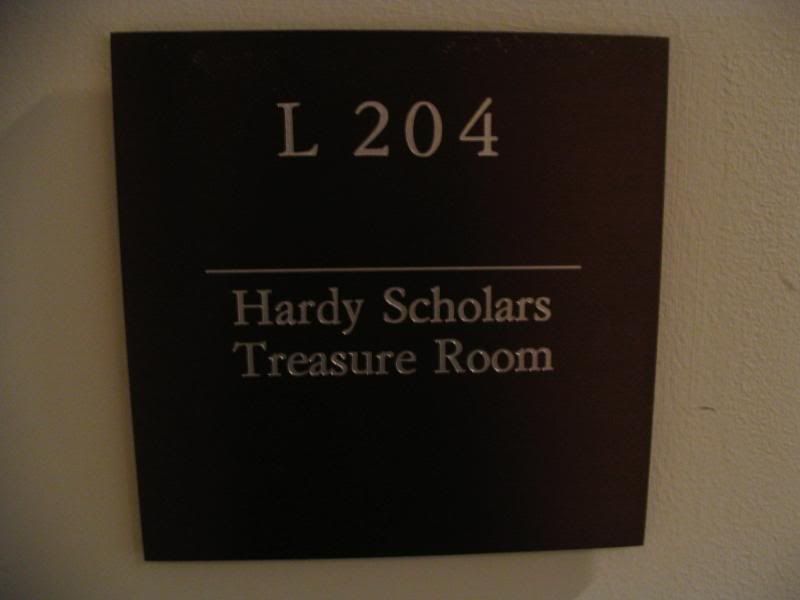 Check it out: we have a treasure room! But it's only for the hardiest of scholars. .. At least, that's what I thought when I first saw this sign. Honestly, until I worked on this project I'd never noticed it. As my coworkers and I giggled about it, the director of the library heard us, and came over to explain that while it is indeed a treasure room, Hardy isn't an adjective, it's a noun: a person, in fact, who donated money that was used to create the original library archive.
In closing, I'd like to invite you to submit your own Tour de Library entry. If you're interested, ask yourself: what makes your library your library? We always think about Library as Place in terms of what patrons think; this is an opportunity to see what is important to us! Don't feel you should limit yourself to what you see here –whatever makes your library special!
Do you have a concept you would like to be featured on the Young Librarian Series?  Send an email with your idea to: younglibrarianseries@gmail.com or visit the SUBMISSIONS page for more details! Thanks for reading and we'll see you next week!